What is M4P? How to Convert M4P to MP3?
I have posted how to convert MP4 to MP3 for free. In this post, I'd like to show you how to convert M4P to MP3. Many of us may be unfamiliar with this format and would be mistakenly think it is also a video format. M4P is totally different from MP4. It is actually an audio file format.
What is M4P?
MPEG-4 files with audio streams encrypted by FairPlay Digital Rights Management as sold through the iTunes Store use the .m4p extension. iTunes Plus tracks are unencrypted and use .m4a accordingly.
What is MP4?
MP4 is the official multimedia container for MPEG-4 video and audio. Although such video can be stored in a number of modern containers, including MPEG-2 PS/TS and Matroska, the development of MP4 is important because it gives hobbyists a replacement for the outdated AVI container which became the standard for MPEG-4 ASP (DivX, XviD, 3IVX, etc.) video.
How to Convert M4P to MP3?
So why do you need to convert M4P to MP3? Since M4P is the format of DRM protected music downloaded from iTunes Store, it can only be used within Apple environment. That is to say, music in M4P format can only played with Apple products including iTunes, QuickTime, iPad, iPhone, iPod, etc. If you purchased lots of songs from iTunes Store and now you want to transfer them onto a non-Apple device, you may be frustrated as they cannot be transferred at all. The nasty DRM is to blame.
To convert M4P to MP3, you may turn to TuneClone for help you. It works as a virtual CD burner. The original songs in your library will be kept intact after burning and encoding. Besides, the music metadata info will be fully preserved.
Now let me walk you through the process of converting M4P to MP3:
1. Download and install TuneClone onto your computer (Windows or Mac).
2. Have TuneClone running on your computer.
3. Create a new playlist in iTunes.
4. Add M4P songs to the playlist.
5. Right click the playlist you just created and choose Burn Playlist to Disc.
6. In the pop-up window of Burn Settings, select TuneClon Virtual_CD-RW (Windows) or CDWriter TuneClone (Mac) from the CD Burner drop-down list, click the radio button next to Audio CD and tick Include CD Text option. Click Burn to start burning.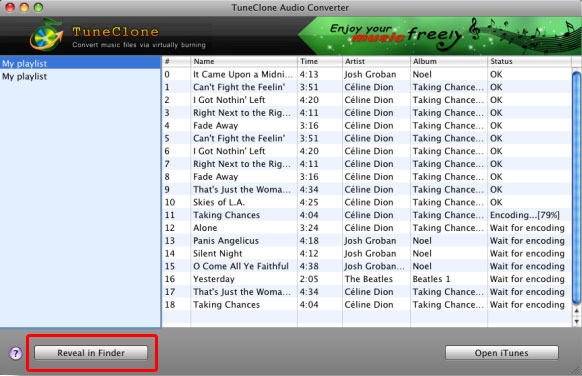 7. Upon the completion of burning the disc and encoding the music, you can open the TuneClone manager screen to show all the converted music files. To locate the output folder, simply click the Folder tab (Windows) or press the Reveal in Folder button (Mac) on the interface.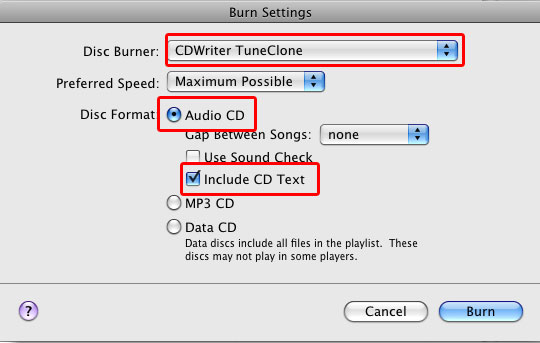 Done.