Transfer Video from Sony Camcorder to iPad
Have some great video clips filmed with your Sony camcorder? Don't you want to recall the best moments on the big screen of your iPad? Basically, when you have taken a video clip with your camcorder, you can transfer the video file to your computer for playback. However, camcorders like Sony and Panasonic capture video in the AVCHD format. It is a file-based format for the digital recording and playback of high-definition video and for use in high definition consumer camcorders. Some Windows 7 editions are able to import and play AVCHD video natively, having files with extensions M2TS, MTS and M2T pre-registered in the system, while others do not support AVCHD files itself and you must install a third-party player. The default media player from Apple (QuickTime) will not play AVCHD natively.
The playback of AVCHD files on PC or Mac is not so easy, not to mention to play them on the Apple iPad. So how can we transfer the recorded AVCHD files to iPad for playback? Here, we simply need Video Converter App to get this done.
How to Transfer Video from Sony Camcorder to iPad?
1. Transfer the videos files (MTS/M2TS) shot with your HD camcorder to your computer.
2. Download and install Video Converter App onto your iPad.
3. Run Video Converter App on your iPad. Choose to upload video files to your iPad via Wi-Fi upload or iTunes File Sharing.
4. The uploaded video files will go to the Video Source tab.
5. Select and convert the uploaded video files.
5. The output video files will go to the Converted Video tab. You simply tap to play any of them.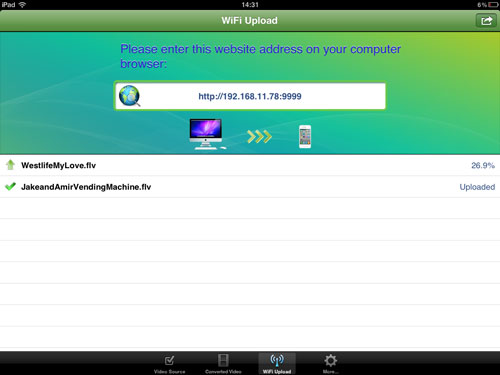 The supported models of Sony camcorder include:
Sony Bloggie Live HD Camera
Sony Bloggie Duo Camcorder
Sony Handycam HDR-PJ10
Sony Handycam HDR-CX130
Sony Handycam HDR-CX160
Sony Handycam HDR-CX360V
Sony Handycam HDR-CX550V
Sony Handycam HDR-CX560V
Sony Handycam HDR-XR160
Sony Handycam NEX-VG10
Sony Handycam DCR-SX45
Sony Handycam DCR-SX65
Sony Handycam DCR-SR68
Sony Handycam DCR SX85
Sony Handycam DCR-SX45E
Sony Handycam DCR-SX85E
Sony Bloggie Touch MHS-TS10
Sony Bloggie Touch MHS-TS20
Sony Handycam NEX-VG10
Sony HDR-FX1