Sync iTunes with iPhone over Wi-Fi
Do you feel troublesome to connect your iPhone with your computer using cable every time you need to transfer music, movies, podcasts, photos, apps and more to your device with the sync of iTunes? The cable may not be at hand all the time. Let's say no to it.
So how to sync iTunes with iPhone without cable? It is quite easy to get it done. Anyway, it does require using the cable to connect iPhone with computer once.
When you get your iPhone connected to your computer, open iTunes and go to your device.
In the Options area under the Summary tab, please tick Sync this iPhone over Wi-Fi.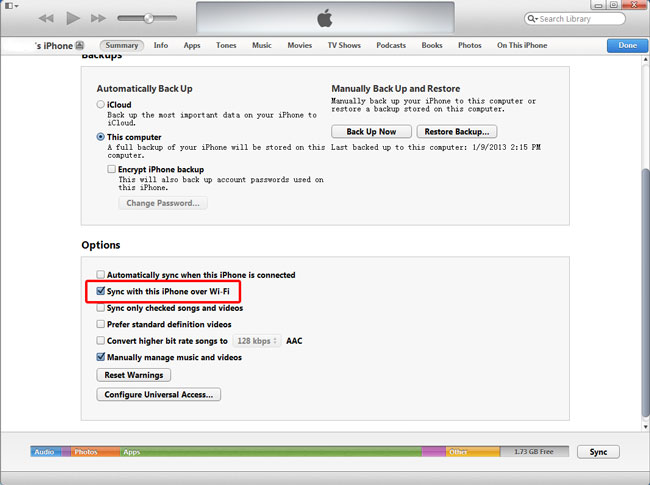 Then press the Apply button. Done.
Now you can unplug the cable from your computer and quit iTunes.
Reopen iTunes, and you will find your iPhone is detected soon.
Just go to your iPhone in iTunes and start to sync iTunes with your device over Wi-Fi.
Note 1: This feature is only available in iTunes 11.
Note 2: To sync iTunes with iPhone over Wi-Fi (without cable), you need to make sure the computer and the device are connected to the same Wi-Fi network.
Note 3: The speed of syncing iTunes with iPhone over Wi-Fi is slower than that of using cable.