How to Change iTunes 11 to Old Design
The iTunes 11 has been completely redesigned. While the new design is more attractive, not everyone likes it. If you still get used to the style of previous versions of iTunes, you can follow the tips below to make your iTunes 11 look like old iTunes:
How to Make iTunes 11 Look Like iTunes 10.x?
Show Menu Bar
It is easy to show menu bar in iTunes 11. You just pull down the menu on the top left of iTunes and select Show Menu Bar.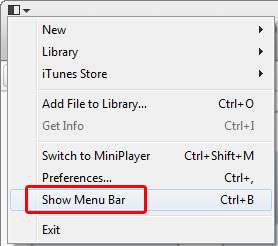 Show Sidebar
When the menu bar is visible in your iTunes 11, pull down the View menu and select Show Sidebar.
Show Podcasts
If Podcasts isn't listed under LIBRARY, pull down the Edit menu and select Preferences…. In the General Preferences window, tick the Podcasts option and click OK.
The new design (iTunes 11):
The old design (iTunes 10.x):
Related Posts:
How to Sync Video Files to iPhone/iPad with iTunes 11
iTunes 11 Available for Download