Transfer iTunes Music to Samsung Galaxy Note II
I've gone from iPhone to Android but I want to get all my music from my iTunes library to my note 2. I've tried installing the Samsung Kies things but it doesn't work. Could I put my music from iTunes onto a memory card then into my note 2? Would it be able to play the iTunes format?
In this post, I'd like to show how you can transfer music from iTunes to Galaxy Note II.
Transfer iTunes Music to Galaxy Note II Using WinAmp
WinAmp for Mac brings iTunes music syncing feature for Android users. You can take any existing iTunes playlist and sync it directly to your Galaxy Note II without having to jump through any other hoops.
Transfer iTunes Music to Galaxy Note II Using doubleTwist
Download and install doubleTwist. Launch the application.
Click Library -> Import iTunes Playlists to add the playlists in your iTunes library.
Connect your Galaxy Note II to computer via a cable and enable USB Mass Storage Mode on your device.
Drag and drop the playlist to your Galaxy Note II in the DEVICES panel and start syncing. For instance, if you want to transfer the music tracks you purchased from iTunes store to your Galaxy Note II, just drag and drop the playlist named Purchased to your device and start syncing.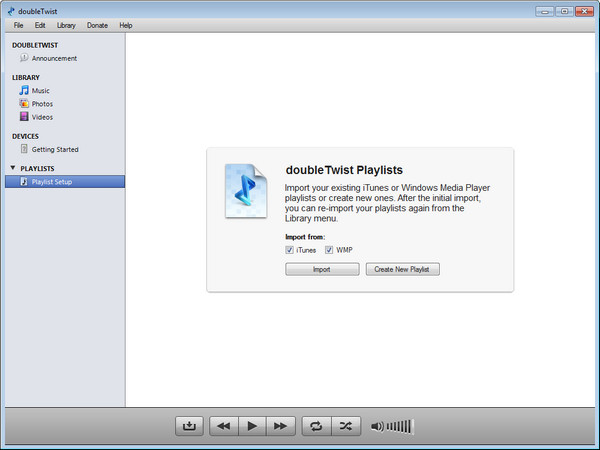 Transfer iTunes Music to Galaxy Note II Using Middleman
Middleman is a Mac app that lets you select any playlist from iTunes and sync the tracks contained within to any desired folder on your USB mass-storage device. Of course, you can let Middleman help you transfer songs from iTunes to Galaxy Note II.
Transfer iTunes Music to Galaxy Note II Using TuneClone
You may wonder why some of the songs in the playlist cannot be successfully transferred to your device using the above-mentioned apps. It is due that they may be copyright protected by Apple's FairPlay DRM. You cannot directly transfer DRM protected iTunes music to Galaxy Note II for playing. TuneClone is an excellent software tool for both Windows and Mac users to get iTunes music DRM removed and converted to plain MP3 files. Here is the guide:
How to Convert iTunes Music to MP3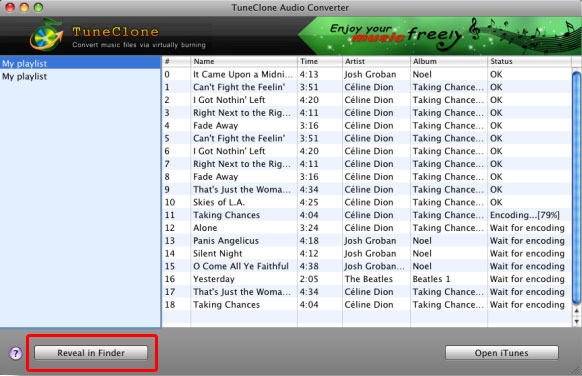 When the burning and encoding is done, you can start to transfer the generated MP3 files from computer to Galaxy Note II through a USB cable.
Transfer MP3 to Galaxy Note II from Computer
On the device, select Settings > Wireless and network > USB utilities, and choose the Connect storage to PC option.
Connect the Galaxy Note II to your computer using the micro-USB cable.
On the screen of the device, select the Connect USB storage option.
A removable disk will mount to your computer. You will see it listed under Computer if you're a Windows user, or on the Desktop if you're a Mac user.
Drag and drop the MP3 files over to the removable disk.