Top 5 Free Video Converter Software Review
For digital fans, there's the need for video conversion from time to time. To move a downloaded video file onto a tablet, you have to make sure the file format meets the tech specs of the device. To edit video files in an app, you also need to check whether or not the app accepts them; for instance, if you want to burn video files in Windows DVD Maker, you should have them in compatible formats such as AVI and WMV. Due to the format compatibility issue, the video conversion process is inevitable. Thus, there are a great number of video converter software tools on the Internet, which makes it more and more difficult to find a good one. In the following review, I'd like to focus on five pieces of video converter free software. The main features of each will be highlighted in the aim of helping you find the perfect yet free video converter.
Clone2Go Free Video Converter can handle most video formats and convert them for playback on your mobile, PSP or other portable devices. It has a clear interface with big, obvious buttons for Add Video and Encode and so on. There is an inbuilt window for viewing video and clipping video length, and a frame including all the optimized encoding settings.
The feature I'd like to highlight is the ability to download and convert YouTube video. Just press the YouTube button to do that.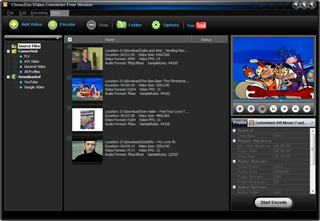 K-Lite
K-Lite is a very powerful tool for editing video files. It supports almost every type of video file as input. It can do lots of things: cut, remux, convert, etc. It contains its own decoders and encoders for all common audio and video formats, so it does not need any external codecs.
Hamster Video Converter
Hamster Free Video Converter is an easy-to-use video converter with a cute but functional interface.
Hamster Free Video Converter has a simple three-step conversion process. First import your original video file, choose an output format or from a range of device profiles then hit convert.
The most striking thing about Hamster Free Video Converter is the bright, modern interface. While it's not standard, it is bold and attractive. You can choose almost any color using the theme slide, so it fits with your Windows color scheme.
The only problem with Hamster Free Video Converter is if you click How to Use or the Tips button, you are taken to a web page, and it insists on opening Internet Explorer even if that's not your preferred choice.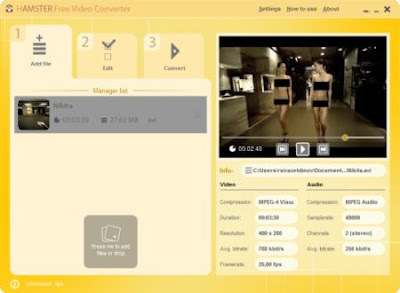 Free Studio
Free Studio (previously known as Free Studio Manager) is an excellent conversion app that bundles multiple converters into one handy program so that when it comes to converting files from one format to another, you can save time instead of searching around for the right tool each time.
Whether you're listening to music on your iPod, burning home movies to DVD or messing around with videos from YouTube, you'll probably have to change format at least once or twice. It's in situations like this that Free Studio can help you out.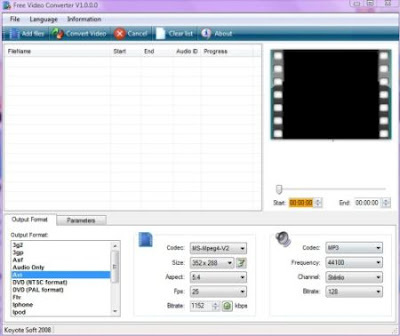 Keyote Free FlV Converter
KoyoteSoft offers you free and easy-to-use tools for all your audio and video needs. Our software provides you with solutions for watching Flash files, converting HD Camcorder recordings, saving ISO Image files, transferring songs to your iPod, recording computer screen activities, and more. So go ahead and try it.