How to Play MKV on iPhone?
Apart from downloading movies, TV shows and music videos from iTunes Store, Apple only allows iPhone users to sync MPEG4 video (mp4, mov, m4v) to their devices for playback. So if you downloaded some .mkv movie files to your computer and now you want to play them on your iPhone, you may have noticed that MKV files cannot be imported into iTunes library at all. Is there a way to play MKV files on iPhone? Let's learn about MKV format first.
What is MKV?
MKV stands for Matroska Video.
The Matroska Multimedia Container is designed to support practically any type of video or audio stream you might care to use. Matroska file extensions are .MKV for video (with subtitles and audio), .MK3D for stereoscopic video, .MKA for audio-only files, and .MKS for subtitles only.
Rather than being designed around a particular format's capabilities, Matroska's container simply provides a framework to mux and interact with audio, video, and even subtitle streams. Video commonly found in the Matroska container includes RealVideo, XviD, and more recently AVC. Audio ranges from Vorbis (OGG) to MP3 or even the original AC-3 audio from a DVD.
How to Play MKV on iPhone?
Generally, if you want to play MKV on iPhone, you may download and install a video converter onto your computer (Windows or Mac). Then you can import the MKV files into the converter, choose an output format (MP4) supported by iPhone, and then get them converted. After the MKV files are converted, you just transfer the output files to your iPhone with the sync of iTunes.
Yet, there's a more direct way to play MKV files on iPhone. And the solution is Video Converter App for iOS. With this video converter iPhone app, you will be able to transfer virtually any video files in your PC to iPhone for playback. Now let me show you how to play MKV on iPhone using this app:
1. Download and install Video Converter App onto your iPhone
The iTunes Preview Link: https://itunes.apple.com/us/app/video-converter-app/id549355396
2. Transfer MKV files from your computer via WiFi with a web browser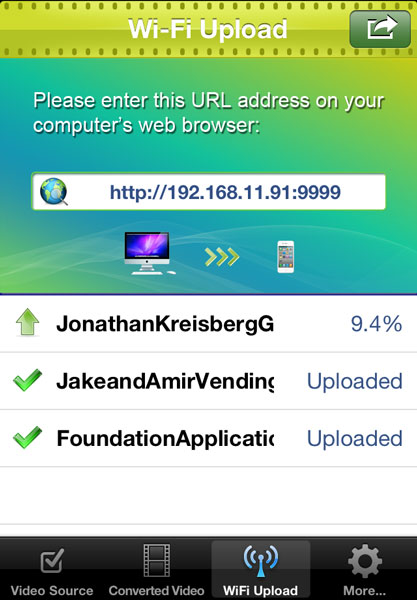 3. Get the uploaded MKV files converted
4. Play the converted video on iPhone
Done.
Learn more about how to convert and play video on iPhone with Video Converter App >>
P.S. You can also follow the above steps to help you play MKV on iPhone 3GS, iPhone 4, iPhone 4S, iPhone 5, iPad mini, iPad 4, the New iPad, iPad 2, iPad 1, iPod touch 5 and iPod touch 4.