Free Download YouTube Videos for Android Phones and Tablets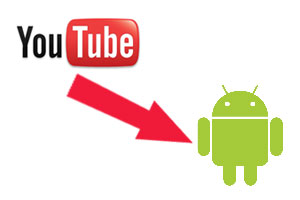 In order to watch YouTube Music, Movies and TV Shows on your Android phone or tablet, you only need to download and install the YouTube app onto your device via Google Play. However, in order to have the YouTube app playing video without buffering, it requires that there's very fast network connection in your Android device. Besides, the ad at the beginning of the YouTube video is very annoying. So is there a way to play YouTube videos on Android devices without constant buffering and annoying ads? How to play YouTube videos on Android devices even if there's no network?
The solution is the Free YouTube Downloader App. It is an great handy tool you can use to free download online videos from YouTube for offline viewing on Android smartphone and tablet computers. To download videos from YouTube for free with Free YouTube Downloader, please refer to:
How to Free Download Videos from YouTube ( Windows )
How to Free Download Videos from YouTube ( Mac )
Free YouTube Downloader provides three output formats for your choice: MP4, FLV and 3GP. To let the downloaded video files be playable on your Android device, it is recommended that you choose MP4 as the output file format.
How to Transfer Downloaded Video Files onto Android Phone or Tablet?
On the device, select Settings -> Wireless and network -> USB utilities, and choose the Connect storage to PC option.
Connect the device to your computer using the micro-USB cable.
On the screen of the device, select the Connect USB storage option.
A removable disk will mount to your computer. You will see it listed under Computer if you're a Windows user, or on the Desktop if you're a Mac user.
Drag and drop video files over to the removable disk. You may create a folder within the removable disk first for saving the video files.