Convert Video Files to Play on Android Smartphones and Tablet Computers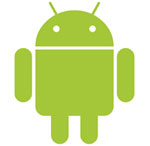 Android is an open source Linux-based operating system designed primarily for touchscreen smartphones and tablet computers. Android smartphones and tablet computers have won greater and greater popularity among digital fans, especially youngsters. Statistics show that it had a worldwide smartphone market share of 75% during the third quarter of 2012, with 500 million devices activated in total and 1.3 million activations per day. In October 2012, there were approximately 700,000 apps available for Android, and the estimated number of applications downloaded from Google Play, Android's primary app store, was 25 billion.
It feels great to watch movies on the go with Android devices, especially Android tablets. There are thousands of movies and TV shows available on Google Play, including comedy, drama, animation, action and documentary. You can purchase movies & TV shows from Google Play and watch them on your Android device.
If you have some video files in your computer hard drive and want to watch them on your Android phone or tablet, or you don't want to pay for movies or TV shows that you own for a second time, you can get them transferred to your device.
The trouble you may come across is that some video files cannot be transferred to your Android device due to file format incompatibility. Or even some of them have been transferred successfully, they may not be played with the message of Unsupported Media Format.
In these cases, you will need to convert your video files in the first place. The Video Converter Mac App is good choice for converting videos to play on Android smartphones and tablet computers. There is an optimzed preset profile for Android devices in this app. Besides, you are allowed to customize the video and audio parameter settings according to the tech specs of your specific device.
How to Convert Video Files to Play on Android Devices?
1. Download and Install Video Converter onto your Mac
Video Converter is available on the Mac App Store at https://itunes.apple.com/us/app/video-converter-clone2go/id447068560
Alternatively, you can download it with this link for free to try it out first.
2. Load Video Files from Mac
Run Video Converter on your Mac. Click the Add button to import the video file from your Mac. Then you can get the video info in the manager panel.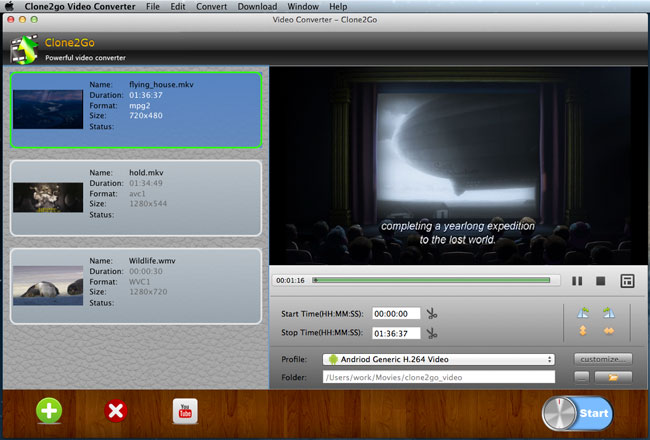 If you only want part of the video file, you can trim it by specifying the Start Time and Stop Time or pressing the scissors icon to clip the video segement you need while previewing.
3. Choose Android Profile
After the video files are imported, click the Profile drop-down list to choose Android Generic from the category. Then select as Android Generic H.264 Video the output format.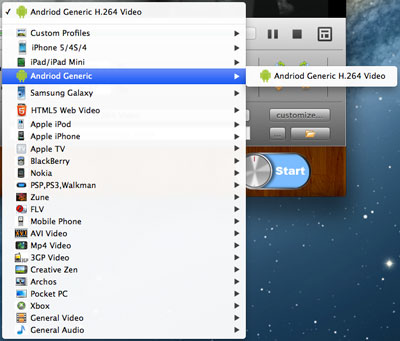 4. Start to Convert
Click the Start button to start the video conversion process on your Mac machine.
When the conversion is done, you can locate the output video files in your Mac and get them transferred to your Android smartphones or tablets for watching on the go.
To transfer video files from Mac to Android devices, you can read this guide for your reference:
How to Transfer Video to Samsung Galaxy Note II
Popular Android Smartphones
Samsung Galaxy S3
Samsung Galaxy Note 2
HTC Droid DNA
LG Nexus 4
Motorola Droid Razr Maxx HD
HTC One V
LG Optimus G
HTC One X
Sony Xperia TL
Samsung Galaxy Express
Popular Android Tablet Computers
Google Nexus 10
Samsung Galaxy Note 10.1
Amazon Kindle Fire HD
Asus Transformer Pad Infinity TF700
Google Nexus 7
Samsung Galaxy Tab
Lenovo IdeaTab
Sony Xperia Tablet S
Nabi XD
Acer Iconia Tab