If you have video files in MPEG-4/H.264 m4v, mp4 or mov format, you can put them onto your iPhone for playback. You can choose to transfer video to iPhone with the sync of iTunes; or you can transfer video to iPhone without iTunes. The only condition is that the video files can be accepted by your iPhone.
For the incompatible video files, there doesn't seem to be a direct way to play them on iPhone. Generally, we will get the video files converted on a computer first. When we get the output video files in iPhone compatible format, we then sync them to iPhone for playing.
However, this method is not what I am going to share. In this post, I'd like to focus on the video file type FLV and show how you can play FLV files on iPhone using FLV Player for iPhone.
What is FLV?
FLV is video file format of Flash Video. Flash Video is standard for online video. It is viewable on most operating systems via the Adobe Flash Player and web browser plugin or one of several third-party programs. Apple's iOS devices do not support the Flash Player plugin.
FLV Player for iPhone
Though iPhone doesn't support Flash Video natively, you can play FLV on iPhone with the help of FLV Player iPhone App.
1. Download and Install FLV Player to your iPhone
2. Upload FLV files from your computer
You can upload FLV files via WiFi Upload or iTunes File Sharing.
3. Convert FLV files before playing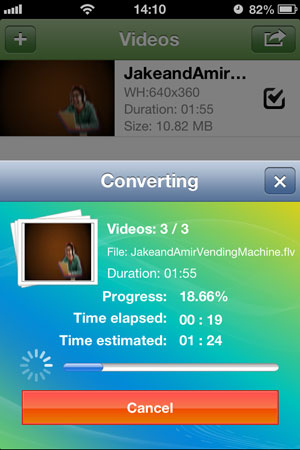 When the FLV files have been imported, go to the Video Source tab and tap the Convert Now button to get them converted.
4. Play FLV files on iPhone
When the FLV files have been converted, you can now feel free to play them on your iPhone.