Use Video Converter App as Video Player for iPhone
Basically, you can let Video Converter iPhone App help you transfer video files from your computer hard drive and get them converted into iPhone compatible video file format (MOV or MP4) within the app directly. As its name indicates, Video Converter App mainly functions as a converter for your iPhone. As a matter of fact, you can also use Video Converter App as a Video Player App, with which you can play video files in virtually all popular formats (except DRM video) on your iPhone. And you do not need to download any other Video Player app for your iPhone any more.
How to Use Video Converter App as Video Player for iPhone?
To make Video Converter App work as a Video Player App:
1. Upload video files that you'd like to play on your iPhone from your computer (Windows or Mac)
You can upload video files via WiFi Upload or iTunes File Sharing. This Video Player App supports a wide range of video formats including MP4, MPG, MOV, M4V (without DRM), WMV, MKV, MTS, M2TS, 3GP, FLV, RM, RMVB, VOB, and more.
Apart from video files stored in your hard drive, you can also import video files from iPhone Camera Roll or Photo Library, download video files from Dropbox and SkyDrive, and even open video files in other apps. As the video files in your iPhone Camera Roll/Photo Library can be played back on your device natively, loading them into Video Converter App is mainly for compressing purpose. For example, you can compress video clips captured with your iPhone 5 from 1080p to 720p or less.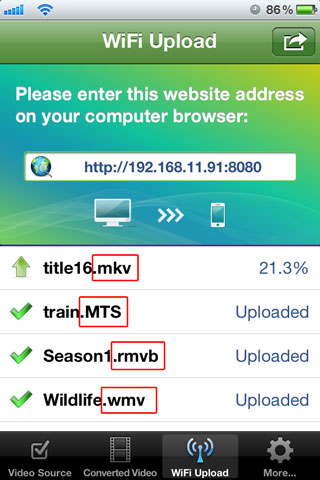 2. Convert video files before playing
Of course, you cannot directly play the video files after getting them transferred. You still need to tap the Convert Now! button to get them converted. The conversion process may take a while if there are lots of videos in the queue or if the video size is very large. In this case, it is suggested that you convert them in a batch in the midnight when your iPhone is set to the airplane mode.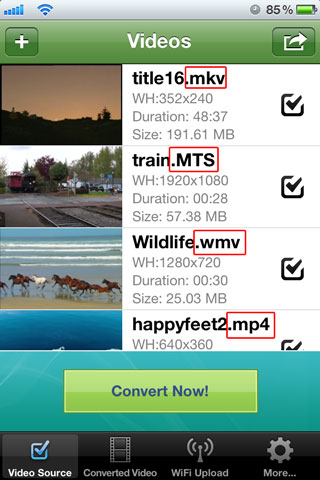 3. Play video files anytime anywhere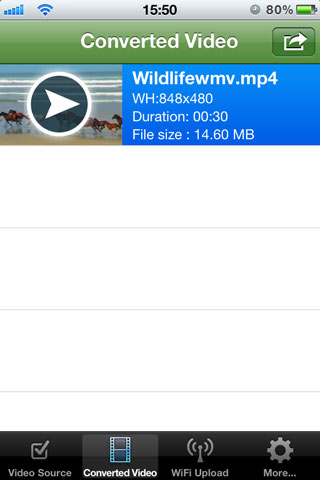 When all the uploaded video files are converted, you can now feel free to play them anytime anywhere.