I have some videos that I want to put on my iPhone 5, but iTunes won't even let me put them in my library. These are .wmv files and I guess I need them to be converted, but I don't want to pay for a converter that I'm only going to use once. Any other ways to play WMV on iPhone?
You do need to get the .wmv files converted before transferring them to your iPhone 5 for playback, as iTunes/iPhone/iPod/iPad never supports WMV video file type. Learn about iTunes/iPhone/iPod/iPad supported video.
So to play WMV files on iPhone, you just find a video converter, get the video files converted from WMV to iPhone compatible format, and transfer the converted video files to iPhone with the sync of iTunes. You may get numberous video converters that can be used to convert WMV to play on iPhone via a simple Google search. However, a decent video converter of this kind will cost you dozens of dollars and it requires several steps to finally play the video on iPhone. Besides, the quality of the output video may let you down.
In this post, I'd like to show how you can play WMV on iPhone with the help of WMV Player App for iPhone.
1. Download and install WMV Player onto your iPhone
2. Upload WMV files from your computer
You can upload WMV files via WiFi Upload or iTunes File Sharing.
3. Convert WMV files before playing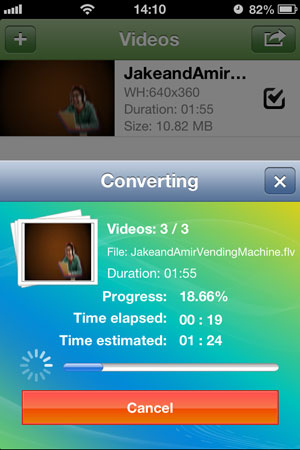 When the WMV files have been imported, go to the Video Source tab and tap the Convert Now button to get them converted.
4. Play WMV files on iPhone
After the WMV files have been converted, you can feel free to play them on your iPhone.
What is WMV?
WMV stands for Windows Media Video — developed and controlled by Microsoft. WMV is a generic name of Microsoft's video encoding solutions and doesn't necessarily define the technology what it uses — since version 7 (WMV7) Microsoft has used its own flavour of MPEG-4 video encoding technology (not very surprising, it's not compatible with other MPEG-4 technologies..). DivX video format is originally based on hacked WMV codec.