How to Convert FLV to Work with iMovie for iPad
The Apple iMovie is a video editing software application for Mac and iOS (iPhone, iPad, iPad mini and iPod touch). In iMovie, you can import and edit photos and video clips and add titles, music, and effects, including basic color correction and video enhancement tools and transitions such as fades and slides.
Generally, the iMovie for iPad only allows you to edit video clips shot with iOS devices. If you have some FLV video files (downloaded from the Internet) in your computer and want to edit them with iMovie on the iPad, you will need to convert video first.
The common way is to convert FLV to the right format on your Mac using a video converter and then transfer the converted file to your iPad. However, I do not plan to introduce this way in details in this post. Rather, I'd like to show you a more direct and easier way to convert FLV to work with iMovie for iPad. You do not even need to know about which formats can be accepted by iMovie. Moreover, you will skip the video transfer process.
Following the steps below, you will be able to convert FLV for editing in iMovie right on the iPad itself. The only app you need is Video Converter App.
Convert FLV with Video Converter App for iPad
1. Download and install Video Converter App onto your iPad
2. Transfer FLV video files into the app via WiFi Transfer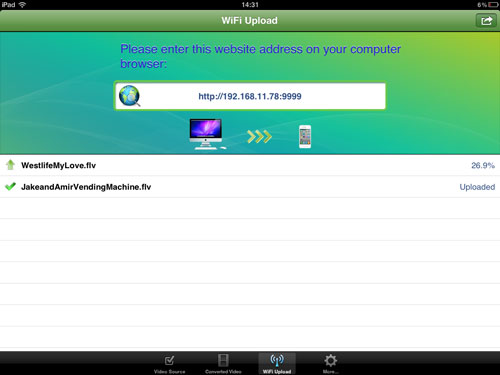 In order to transfer FLV from computer to the app to convert and play, you need to make sure your computer and your iPad are connected to the same WiFi network first. Then switch to the WiFi Upload tab and input the http URL to your computer (Windows or Mac) web browser. Within the browser, you can browse and choose FLV files from your computer and upload them to the app.
3. Convert FLV video files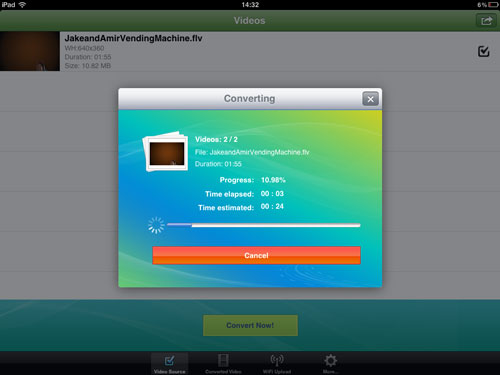 The uploaded FLV files will go to the Video Source tab. There you can select and convert any of them.
4. Save converted video files to photo library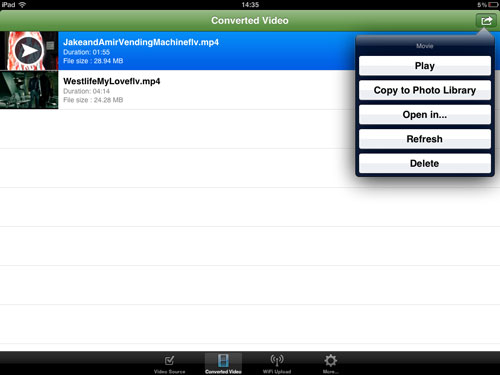 The output video files will go to the Converted Video tab. Then you need to choose to copy them to photo library in order to add them to iMovie on iPad.
Import Converted Video into iMovie for Editing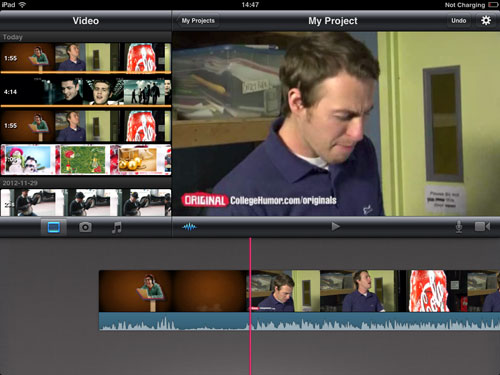 Now you can launch the iMovie app on your iPad, create a new project and drag and drop the converted video files to the timeline for further editing.
Note: Video Converter App is also available on the Mac App Store (preview link). If you want to convert video files to edit in iMovie for Mac, you can also download it from Mac App Store to help you.