Edit Canon Recorded Movies in iMovie for iPad
Have recorded some amazing video clips using your Canon camcorder? Don't you want to move them over to your iMovie for further editing and work like a professional film editor? Don't you want to share the perfect moments with your Facebook and YouTube friends? Here comes the chance to get the videos filmed with Canon camcorders edited within the iMovie app on iPad. And with iMovie for iPad, you can easily share your masterpiece online.
Before getting started, you will need to transfer the recordings to your computer first. Here is the video transfer guide that takes Canon VIXIA HF G20 as an example.
How to Transfer Canon VIXIA HF G20 Video to Computer
When the recorded videos are saved to your computer, you only need Video Converter App to help you.
Video Converter App lets you transfer any video files from your computer to iPad via Wi-Fi Upload or iTunes File Sharing. Then you can choose to convert the uploaded video files to MP4 or MOV files. The converted video files will be easily accessible by the iMovie app for iPad.
How to Convert Canon Recorded Video on iPad for Editing in iMovie?
1. Download and install Video Converter App onto your iPad
2. Transfer video files into the app
You can choose to transfer the Canon recorded video files via Wi-Fi Upload or iTunes File Sharing.
Since the video files filmed with Canon HD camcorders are in AVCHD format and thus the file size is very large, it is recommended using iTunes File Sharing to transfer them to the app.
3. Convert video files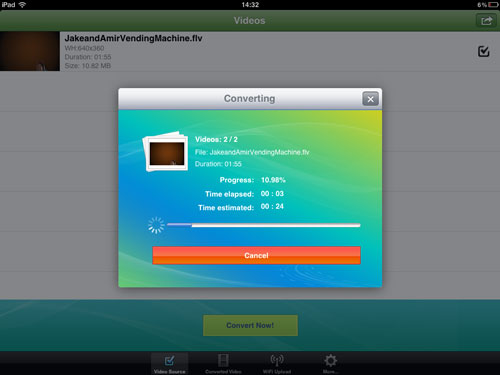 The uploaded video files will go to the Video Source tab. There you can select and convert any of them.
4. Save converted video files to photo library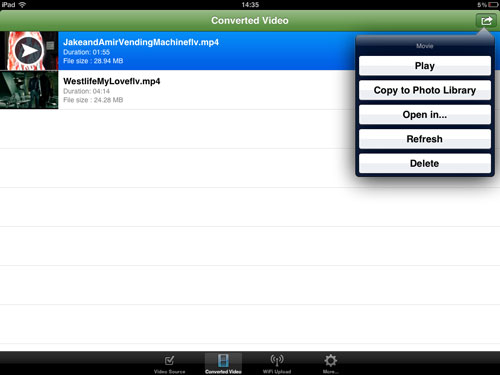 The output video files will go to the Converted Video tab. You can then tap the "Open in…" button to open them in iMovie.