How to Transfer and Convert MTS on iPad
MTS and M2TS are both file extensions used for BDAV (Blu-ray Disc Audio-Video) container file format. This container format is commonly used for high definition video on Blu-ray Disc and AVCHD. Videos recorded using HD camcorders such as Sony, Panasonic, Canon and other brands of AVCHD camcorders are generally stored in MTS/M2TS (BDAV container) format.
Due that the BDAV container format used on AVCHD devices uses H.264/MPEG-4 AVC video compression, it requires high hardware compatibility to play MTS/M2TS files. Besides, in order to play MTS/M2TS files on your computer, you will need to install media player software. And some players will need an appropriate codec, component or plugin installed. Or you can simply convert MTS/M2TS files first.
In this post, I'd like to focus on how to play MTS files on iPad. Of course, you cannot transfer MTS files to iPad for playback directly, as iPad only supports video files with the extension of MP4, MOV and M4V. The common way is to convert MTS video files on a computer using a video converter, add the converted video files to iTunes, and then sync the converted video files to iPad.
However, I am going to skip this way. Rather, I'd like to show how you can directly transfer MTS files to iPad and convert MTS files on the iPad.
To get this done, the only app you need is Video Converter App.
How to Convert MTS on iPad
1. Download and install Video Converter App to your iPad
2. Transfer MTS files to the app via Wi-Fi Upload or iTunes File Sharing.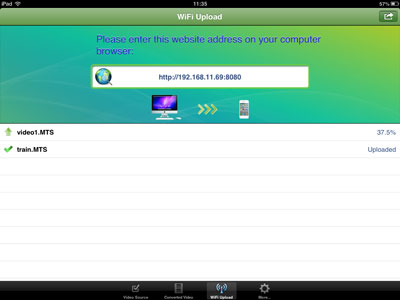 3. Convert MTS video files
The uploaded MTS files will go to the Video Source tab. There you can select and convert any of them.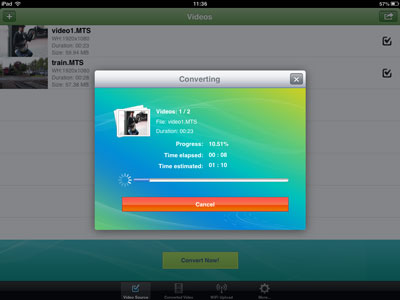 4. Play the converted video files
The output video files will go to the Converted Video tab. You can then tap the Play button to play any of them on your iPad.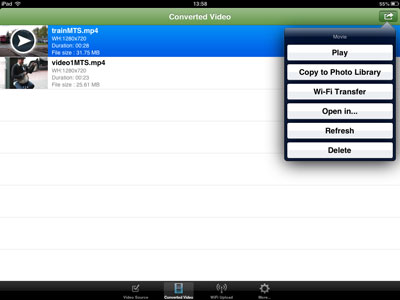 You can also choose to save the converted video files to your iPad Photo Library, transfer the converted video files back to your computer via Wi-Fi Transfer, and even open the converted video files in other apps.