Convert Video on iPhone for Editing in iMovie
The iMovie is a pretty good video editing software application for Mac and iOS (iPhone, iPad, iPad mini and iPod touch). iMovie for iPhone lets you turn photos, videos and music into vivid slideshow movie for saving to Camera Roll or for sharing on YouTube, facebook, vimeo, and CNN iReport. You can also select a theme, turn on/off theme music, choose to loop background music, set fade in/out effects, etc. for your movie.
The iMovie app for iPhone lets you import video clips and photos from your iPhone Camera Roll and Photo Library as the source media files, and select songs from your iPhone Music Library as the background music. You can also capture a video clip and take a picture from camera for using as the source media, and record your narration as the background sound.
You may wonder whether you are able to import video files from other sources into iMovie for editing. The answers is YES. Since iMovie accesses video files from Camera Roll, what you only need to do is get video files from other sources transferred there.
If you have video files stored in your computer that are in iPhone compatible format (MP4 / MOV / M4V), you can transfer them from your computer to your iPhone Camera Roll using Wireless Transfer App.
If they are in other video file formats, the ideal tool for you is Video Converter App for iPhone. With Video Converter iPhone app, you are allowed to transfer any video files from your computer to your iPhone and convert them for playing on your device or for further editing in iMovie app. Apart from local video files, it also lets you import video files from Cloud like Dropbox and SkyDrive. It turns out Video Converter App helps iMovie to import Dropbox and SkyDrive video files for editing.
Now let me show you how to convert video for iMovie on iPhone with Video Converter App.
How to Convert Video for iMovie on iPhone?
1. Download and install Video Converter App onto your iPhone

2. Tap the + button on the top left to import video files from
Camera Roll
iTunes File Sharing
Wi-Fi Upload
Dropbox
Microsoft SkyDrive
3. When the video files are loaded, they will be listed in the Video Source tab. Press the Convert Now button to start to convert them.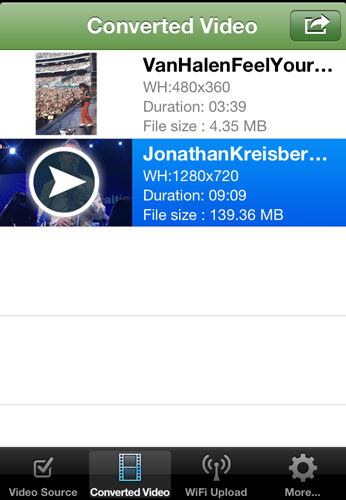 4. When the video files are converted, they will be listed in the Converted Video tab. Tap the Share button on the top right and choose Open in…
If the iMovie app has been installed onto your iPhone, you can find it and open the converted video in iMovie directly. Alternatively, you can choose to copy the converted video to Photo Library first and then open the iMovie app to insert it.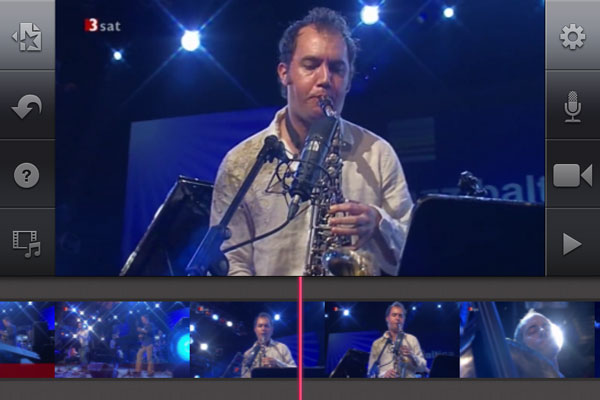 Now you can feel free to edit the video files and start your masterpiece in iMovie. You may have noticed that, with Video Converter App, you will be able move virtually any video files onto iMovie for editing.