Review: Video Converter App for iPhone and iPad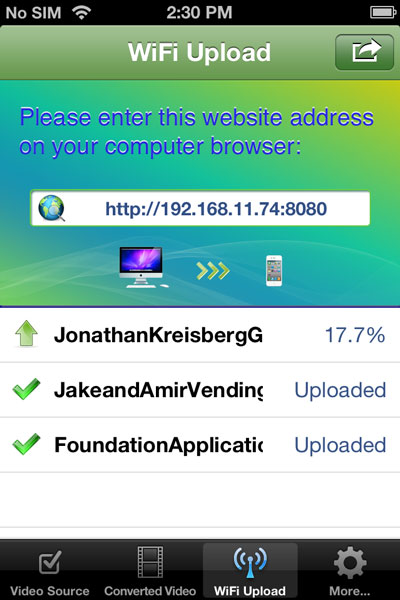 The iTunes Store offers a variety of movies, music videos and TV shows which you can purchase, download and transfer to your iPhone/iPad/iPod touch devices for playback. If there are some great video files in your PC and you want to play them on your iPhone/iPad/iPod touch, you have probably noticed that not all of them can be transferred to your device. What's the reason behind? It is due that Apple devices like iPhone, iPad and iPod touch can only support certain .m4v, .mp4, and .mov file formats. For the video formats like AVI, WMV, MKV, FLV, 3GP, MTS, M2TS, RM, RMVB, etc., you cannot directly transfer them to iPhone, iPad and iPod touch devices for viewing.
Anyway, there's an indirect way to watch the non-compatible video files on an iOS device. You just need a converter to get them converted to iTunes-, iPad-, iPhone-, or iPod-compatible videos. When you get the converted videos, you just add them to iTunes and sync them to your device. It sounds nice. But don't you think it very troublesome? Besides, the converter will cost you dollars.
So is there a more convenient yet free way to convert local video files for playing on iPhone/iPad/iPod touch? The answer is YES and the solution is Video Converter App.
Video Converter App lets you transfer video files from your computer to your iPhone/iPad/iPod touch device for instant conversion and direct playback. You can choose to transfer video files to your device either by Wi-Fi Upload or via iTunes File Sharing, in queue ready to be converted to iPad/iPhone/iPod compatible video files.
Main features of Video Converter App
Support most video formats.
Support video files captured with HD camcorders such as Sony, Nikon and Panasonic.
Support all brand digital cameras' video format.
Transferring video to iPad, iPhone or iPod touch via Wi-Fi with web interface.
Support iTunes File Sharing for large files.
Speedy converting with hardware accelerate encoding engine.
Intuitive interface and very easy to use.
Availability
Video Converter App is only $2.99 USD (or equivalent amount in other currencies) and available worldwide exclusively through the App Store in the Photos & Videos category.
https://itunes.apple.com/us/app/video-converter-app/id549355396
Video Converter App is compatible with iOS 5.0 or above and works with iPhone 3GS, iPhone 4, iPhone 4S, iPhone 5, iPod touch (3rd generation), iPod touch (4th generation), iPod touch (5th generation) and iPad.
Source from photodvd.wordpress.com.