How to Add Music to iPhone 5
Never forget that, besides phone, SMS, apps, games, movies, books, your iPhone 5 is also an excellent music player. In this post, I'd like to list some ways in which you can get music for playing on iPhone 5.
1. Purchase music from iTunes Store for iPhone 5
To purchase music from the iTunes Store, just click on the "iTunes Store" link under "Store" in the left column of iTunes. Once in, you're greeted with the iTunes Store interface, with links on the top that take you to Music, Movies, TV Shows, App Store, Books, Podcasts and iTunes U. Under the Music tab, you can choose a song or album to buy for your iPhone 5.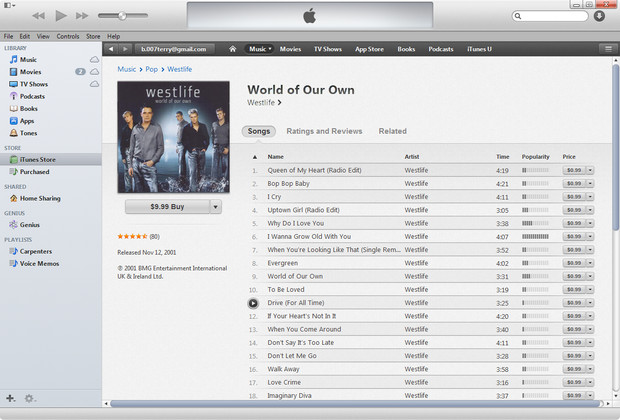 2. Import CDs into iTunes for iPhone 5
If you own a few CDs, you can import them into iTunes for your iPhone 5. Since you've already spent money on the songs in the CD, you have no reason to buy them all over again just to get them into iTunes. Apple made it simple to rip a CD to your library.
By default, iTunes rips songs to AAC format, and although AAC is a very high-quality format, it isn't as widely-supported as the ubiquitous MP3 format, which enjoys support from virtually every digital music player known to man, including iPhone 5. To ensure greater portability of your music (and prevent you from feeling locked into one product just because you've ripped all your music in one format), I suggest ripping your CDs as MP3s. To do so, go to Edit -> Preferences. In the General tab, click the Import Settings… button. In the pop up dialog window of Import Settings, select MP3 Encoder from the Import Using dropdown menu and Higher Quality (192 kbps) from the Setting dropdown.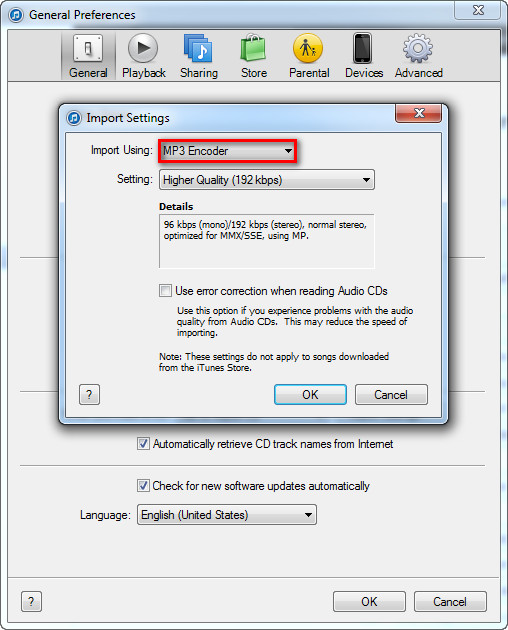 3. Import MP3s into iTunes for iPhone 5
Once you've downloaded MP3s onto your computer, it's easy to import them into iTunes. First make a new playlist by going to the "File" menu and clicking "New" -> "Playlist" and naming it anything you like. Select that playlist in iTunes, then drag your MP3s from your hard drive into the right-hand pane. iTunes will start importing your music and populating the playlist with songs. After it's done, you're free to play back the songs or sync them to your iPhone 5 just like all the rest of your library.
4. Import WMAs into iTunes for iPhone 5
Importing unprotected WMA files is just like importing MP3 files, but requires one additional step. With WMA files, iTunes will actually transcode the songs and change the format from WMA to whatever default audio encoder you've set in the iTunes Preferences. It's not necessary to know the difference between WMAs, MP3s, and AACs, but you should know that when you import WMAs, your original files are untouched and a new file is created.
Note: For the songs that come from other stores than iTunes Store, like Rhapsody, Napster, and Zune Marketplace, you cannot import them into iTunes for iPhone 5 directly. They are protected from being played in software and hardware music players that don't support their particular standard (just like non-Apple music players can't play most music from the iTunes Music Store).