How to Transfer Video from iPhone to iPad
I have all the editing apps I need on my iPad (iMovie and Pinnacle Studio). But I record all of my videos on my iPhone 5 much higher quality camera. How can I take the videos from my iPhone and edit them on my iPad with either of those apps?
So if you have video clips filmed with your iPhone that you'd like to edit on your iPad with iMovie or other video editor apps, you need to transfer the videos from iPhone to iPad first.
In this post, I'd like to share two different ways to get videos transferred from iPhone to iPad.
Transfer Video from iPhone to iPad with Cable and iTunes
If you are beside the computer and your cable is at hand, you can follow the steps below to transfer videos from iPhone to iPad:
Connect iPhone to computer with USB cable
Copy videos from iPhone to computer
Connect iPad to computer via cable
Launch iTunes
Add videos from computer to iTunes library
Transfer videos from computer to iPad with the sync of iTunes
Transfer Video from iPhone to iPad via Wi-Fi
In case your cable is unavailable or you think it is rather troublesome to transfer using the above iTunes + cable method, here is an easier and quicker way. The only tool you need is Wireless Transfer App. It lets you transfer photos and videos from one iOS device to another wirelessly and instantly, with no need for iTunes or cable any more.
Now let me show you how to transfer video from iPhone to iPad using Wireless Transfer App:
1. Download and install Wireless Transfer App onto your iPhone and iPad.

Note: With the same iTunes account, you only need to pay once to install Wireless Transfer App on both your iPhone and your iPad.
2. Connect your iPhone and iPad to the same Wi-Fi network.
3. Run Wireless Transfer App on your iPhone and iPad.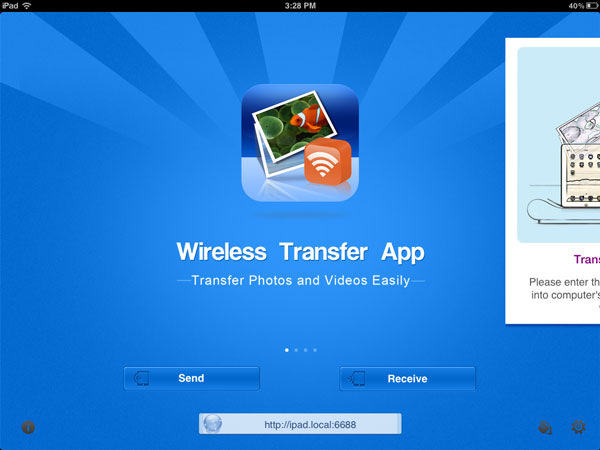 4. Tap the Send button on your iPhone, choose to Send Photos & Videos to iPod/iPhone/iPad and then select videos for transferring.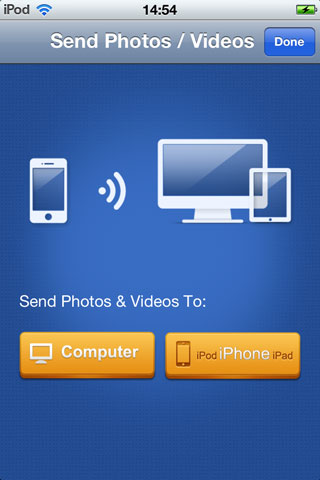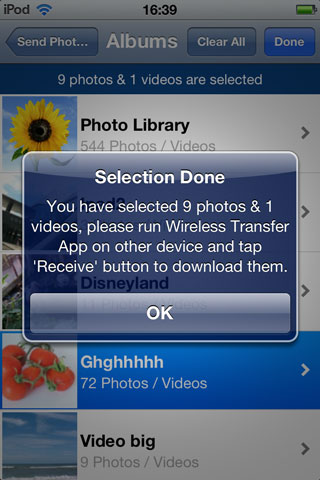 5. Tap the Receive button on your iPad. Then you will find the device name of your iPhone.
6. Tap the name of your iPhone. Choose to save the selected videos to an existing album or a new album. Tap the "Download" button to start to download the selected videos.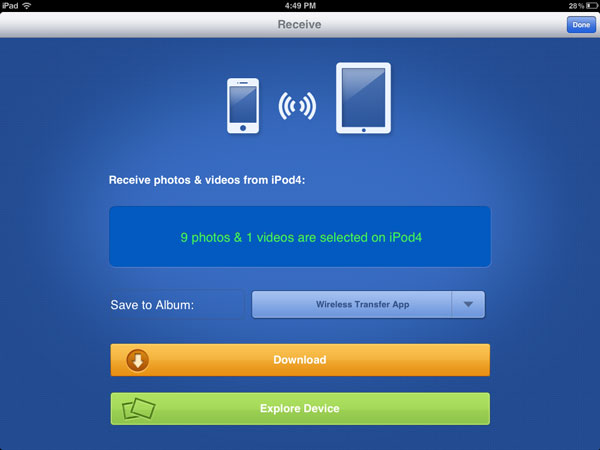 7. The selected videos will be downloaded to the photo library in your iPad.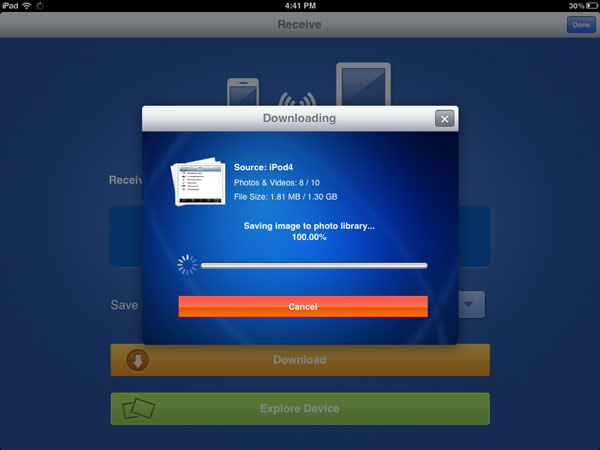 8. Launch the "Photos" app in your iPad and you will find all the videos downloaded from your iPhone.
Done.