Extract Audio from Video on Mac
If you only want the audio part from a music video and use it as your ringtone. Or maybe you are trying to insert an audio clip from your favorite movie into the powerpoint presentation or iMovie project you are working on. Whatever the case may be, you need to convert video to audio first.
In this post, I'd like to show how you can extract audio from video on Mac using QuickTime Player that comes with your Mac (OS X 10.7 Lion or later) and Video Converter Mac App.
Extract Audio from Video on Mac Using QuickTime Player
1. Open the video in QuickTime Player.
2. If you want to keep all of the audio from the entire video, you can skip to the next step. But if your video is long and you only want the audio from a certain part, you can use QuickTime's trim feature.
Just go to the menu bar and select Edit > Trim. Then you can move the yellow handles to change where the video starts and ends.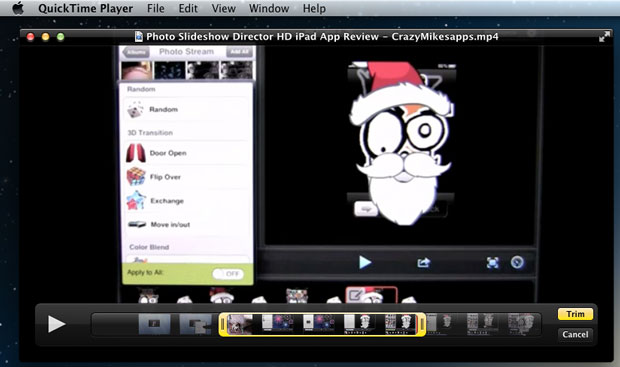 3. When you're ready to make your audio file, go to File > Export. When the Export window comes up, select "Audio Only" from the Format drop-down menu. Name your file and click Export.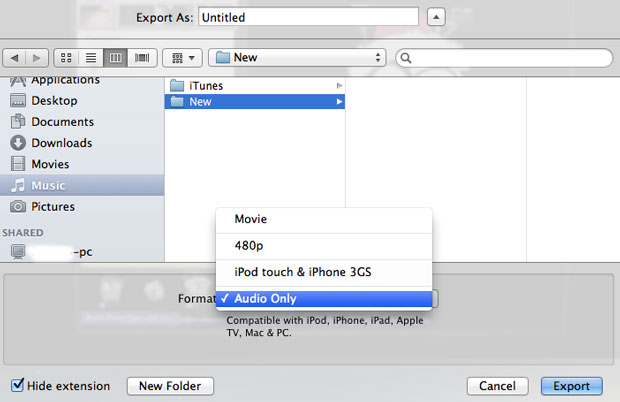 Done! QuickTime will create an M4A audio file that you can use with iTunes to load onto you iPod, iPhone, iPad, or Apple TV.
Note: QuickTime will only open certain video files (MP4, MOV and M4V). If you want to extract audio from video in other formats like AVI, 3GP, FLV, MTS, M2TS, MPG, VOB, etc., or convert video to other audio formats, just go ahead to the next part.
Convert Video to Audio Using Video Converter Mac App
Video Converter Mac App is mainly used to convert video to video, but you can also use it to extract audio from video. The benefit of using this app instead of QuickTime is that it supports a host of input video file types and output audio file types (aac, mp3, mp2, ogg, m4a, wav, ect.) as well as provides options to customize the bit rate, sample rate, etc.
It is very easy to convert video to audio on Mac using Video Converter App:
1. Download and install Video Converter App onto your Mac.
Video Converter is available on the Mac app store at https://itunes.apple.com/us/app/video-converter-clone2go/id447068560
You can also download it via this link to try it out.
2. Launch Video Converter App. Click the + button in the interface to import the video file from your Mac. Alternatively, you can also drag and drop the video file to the app.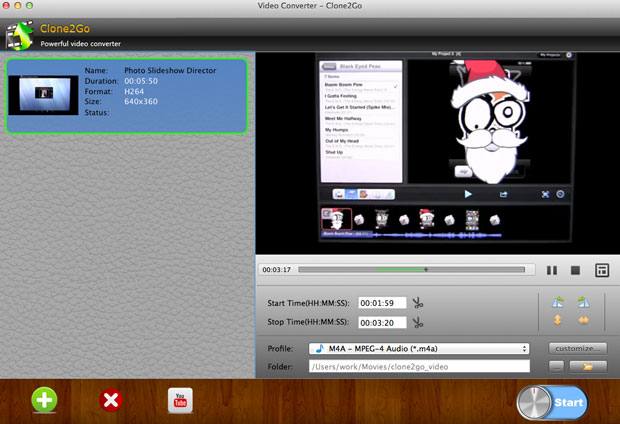 3. Trim the video file while playing it back by clicking the Start to trim and Stop to trim scissors in the preview windows.
4. Extend the Profile category and select the audio format you need.
5. Click the Start button to start to convert video to audio on Mac.
Done.