Video Converter App Lets You Convert Video Files Directly on iOS Devices
If you want to watch video files saved or downloaded to your computer hard drive on an iOS device, you need to check whether or not they are iOS compatible first. To learn about what formats your device supports, you can check out the Tech Specs page of the device in the Apple official site. For those video files compatible with iPhone/iPod/iPad, you just transfer them to the device through the sync of iTunes. Otherwise, you have to convert them first.
There are a great number of video converters that can help you convert video files on Windows or Mac computers. And a great majority of them provide optimized profile presets for Apple devices. What if you want to convert video files directly on your iPad, iPhone or iPod touch? Is there a video converter for iOS? If I want to play local video files on my iPad/iPhone/iPod touch, do I have to use iTunes sync?
The answer to the first two questions is YES and the last NO. Video Converter App is also available on the iTunes App Store. With this iOS Video Converter, you can easily transfer video files from PC to iPad/iPhone/iPod touch to convert and play. Now it is time to kiss goodbye to any Windows or Mac video converters. The iTunes sync process will be omitted as well.
To convert video files on iOS devices, you just need to take the following two steps:
1. Upload video files via WiFi
Download and install Video Converter App onto your iOS device.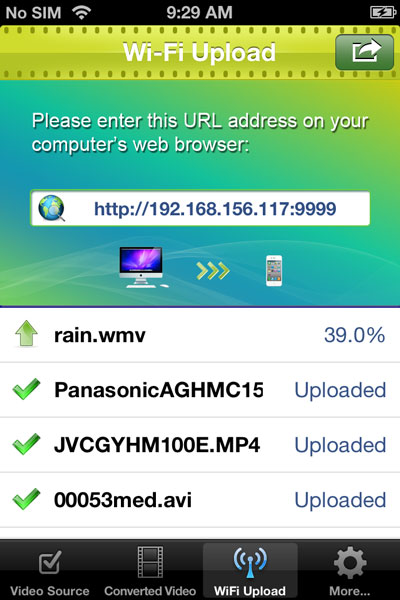 Run Video Converter App and switch to the WiFi Upload tab.
Open a web browser on your computer.
Type the URL address as shown in the Wi-Fi Upload screen into the address bar.
There will be a Upload button in interface of the browser.
Choose and upload your local video files to your device.
2. Convert video files
When the video files are uploaded to Video Converter App, they will go to the Video Source tab.
Press the Convert Now! button to start converting video files.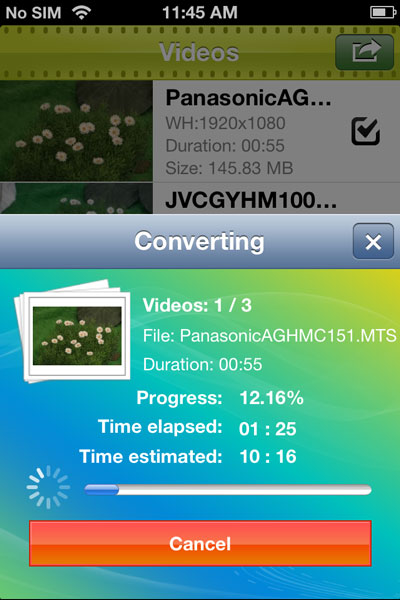 The converted video files will be added to the Converted Video tab.
When the video files are converted, you can then choose to play them or save them to Photo Library.
Done.
Note: Apart from WiFi Upload, Video Converter App also lets you transfer video files via iTunes File Sharing. It is helpful if the file size is very big or if there's no network connection available.