Many of us may be not familiar with WLMP. So what is WLMP? Is it a video file format? Let's take a look at it first.
What is WLMP?
A *.wlmp is a movie project file created by Windows Movie Maker, a program that allows users to create their own movies and slideshows with transitions, music, effects, etc. A *.wlmp file can be exported to Windows Media Video File (*.wmv) or MPEG-4/H.264 Video File (*.mp4), published to SkyDrive, Facebook, YouTube, Vimeo, and Flickr, and burned to DVD discs.
WLMP files are not video files. They are project files used to create videos. Or rather, WLMP is a record file.
How to Burn WLMP to DVD?
To burn WLMP to DVD, you need to launch Windows Movie Maker first. Then click menu -> Open project to import the WLMP file from your computer.
Note: You may wonder why the photos/videos are not viewable after the wlmp file is added. Why are there exclamation marks instead? Since wlmp is a project file, it only records the file path of the picture and video files added to the project. If you have moved or deleted the media files in your computer, the wlmp file cannot be properly opened in movie maker. The solution is getting the picture and video files exactly back to their previous locations in your computer. Or you can open the wlmp file with a text editor app like notepad and then edit the file path to the current path.
When the wlmp file is loaded into Movie Maker without any error, you can start to burn it.
Click menu -> Save movie and then choose Burn a DVD.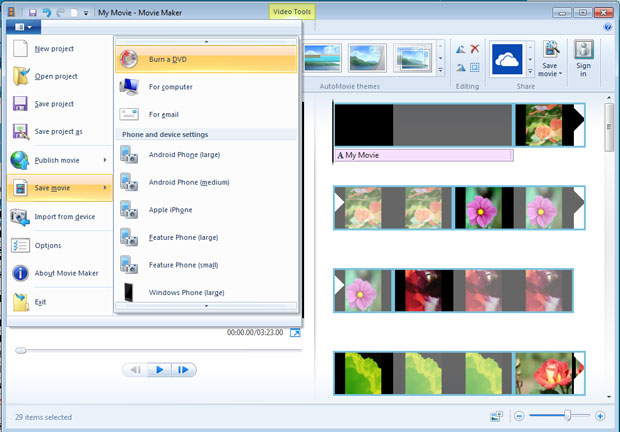 Movie Maker will first generate a WMV file onto your computer. Then Windows DVD Maker will pop up and the generated wmv file has been automatically added to it.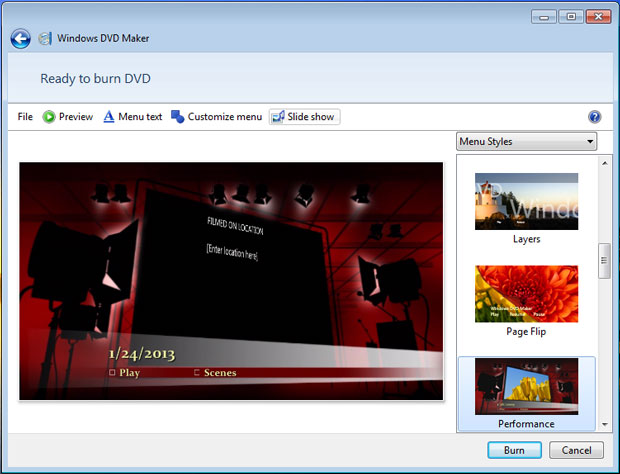 The wmv file is ready for buring to DVD. You will be able to select a menu template, customize menu text, etc. for your DVD.
If you'd like to convert wmlp to other video formats such as avi, mov, flv, 3gp, you may download Video Converter App to help you. But you also need to let Windows Movie Maker help you open the wlmp file and convert it to wmv or mp4 video in the first place.