Video Converter App Version 1.4 Released
The iOS Video Converter App was upgraded to version 1.4 on Mar 18, 2013.
What's New in Video Converter App Version 1.4
1. Added deinterlace option
2. Fixed no sound bug on iPad
Here is the iTunes Preview Link: https://itunes.apple.com/us/app/video-converter-app/id549355396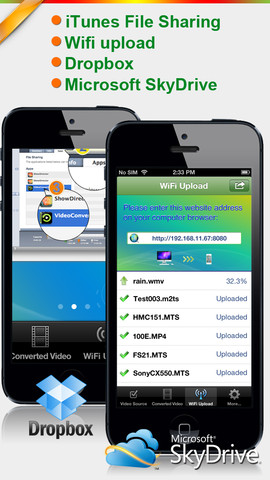 Key Features of Video Converter App
1. Support most video formats.
2. Support video files captured with HD camcorders such as Sony, Nikon and Panasonic.
3. Support all brand digital cameras video format.
4. Transfer video to iPad or iPhone wirelessly with web interface.
5. Support iTunes File Sharing for large file.
6. Speedy converting with hardware accelerate encoding engine.
7. Intuitive interface and very easy to use.
8. Import video files from Dropbox, Microsoft SkyDrive.
9. Import video from Camera Roll, so you can shrink video size to save more space on your device.
10. Open video files from mail attachment.
11. "Open In…" from other apps to import video source file.
Video Converter App is compatible with iPhone 3GS, iPhone 4, iPhone 4S, iPhone 5, iPod touch (3rd generation), iPod touch (4th generation), iPod touch (5th generation) and iPad. It requires iOS 5.0 or later.