Color Spotlight for iPhone and iPad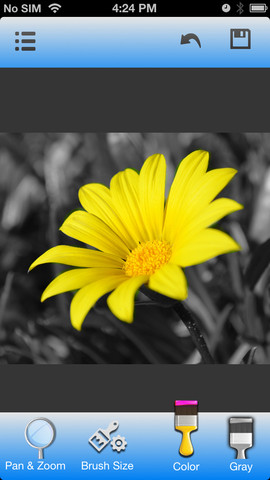 Color Spotlight, developed by Shenzhen Socusoft Co., Ltd, is now available on the iTunes App Store!
Color Spotlight iPhone/iPad app lets you easily highlight any objects or areas in a photo by splashing colors on them while making the rest in black and white.
The iTunes link: https://itunes.apple.com/us/app/color-spotlight/id648249756?mt=8
If you want to emphasize some part of a photo, you can convert the rest into black and white and keep the selected part in full color. Color Spotlight gives you the freedom to add color to any part of your photo to make the selected areas more eye-catching and focused.
Key Features of Color Spotlight for iPhone and iPad
Load photos to edit from your Camera Roll/Photo Library.
Zoom in/out photos by a pinch gesture with two fingers.
Pan left/right, up/down photos with finger movements.
Zoom in photos to attain pixel level accuracy with your fingers.
Two brushes (color and grey) allow you to color or grey photos back and forth.
Adjustable bush size, big for efficiency, small for accuracy.
Rapidly adjust brush size in the fly with the slider.
Tap on photo to hide toolbars and color splash photos in full screen mode.
Undo function supported. You can correct your mistakes or accidental brush strokes any number of times.
Save multiple sessions for future editing. You can continue from where you left off last time by retrieving the saved sessions.
Color Spotlight is compatible with iPhone 3GS, iPhone 4, iPhone 4S, iPhone 5, iPod touch (3rd generation), iPod touch (4th generation), iPod touch (5th generation) and iPad and requires iOS 5.0 or later. Color Spotlight is only $0.99 USD (or equivalent amount in other currencies) and available worldwide exclusively through the App Store in the Photo & Video category.